Events
Staff meet-ups, at your fingertips
Use OurPeople to manage events, meetings and training sessions. Up-to-date attendee lists, resources and event feedback, all in one place.
Get a demo
Streamline your events
Let OurPeople do the admin
Can't find the latest attendee list? Not sure who's responded to the invitation? OurPeople keeps everything in one place – create the event, choose who to invite, and track responses. You can even create waiting lists, all in the app. No more emailing back-and-forth, or data entry in spreadsheets.
Resources on the go
No time? No problem.
Send details straight to home screens and share a link to the resources that people will need on the day. When all the information is accessible on people's phones, they're more likely to make time to read it. And there's not a wasteful hand-out in sight.
Create events fast
Make content snappy
With OurPeople's content creation cards, building an event takes minutes. Drag and drop a template with your organisation's branding, add your event details and link to other platforms, sites or content that you need to share. Then choose your attendees and hit send.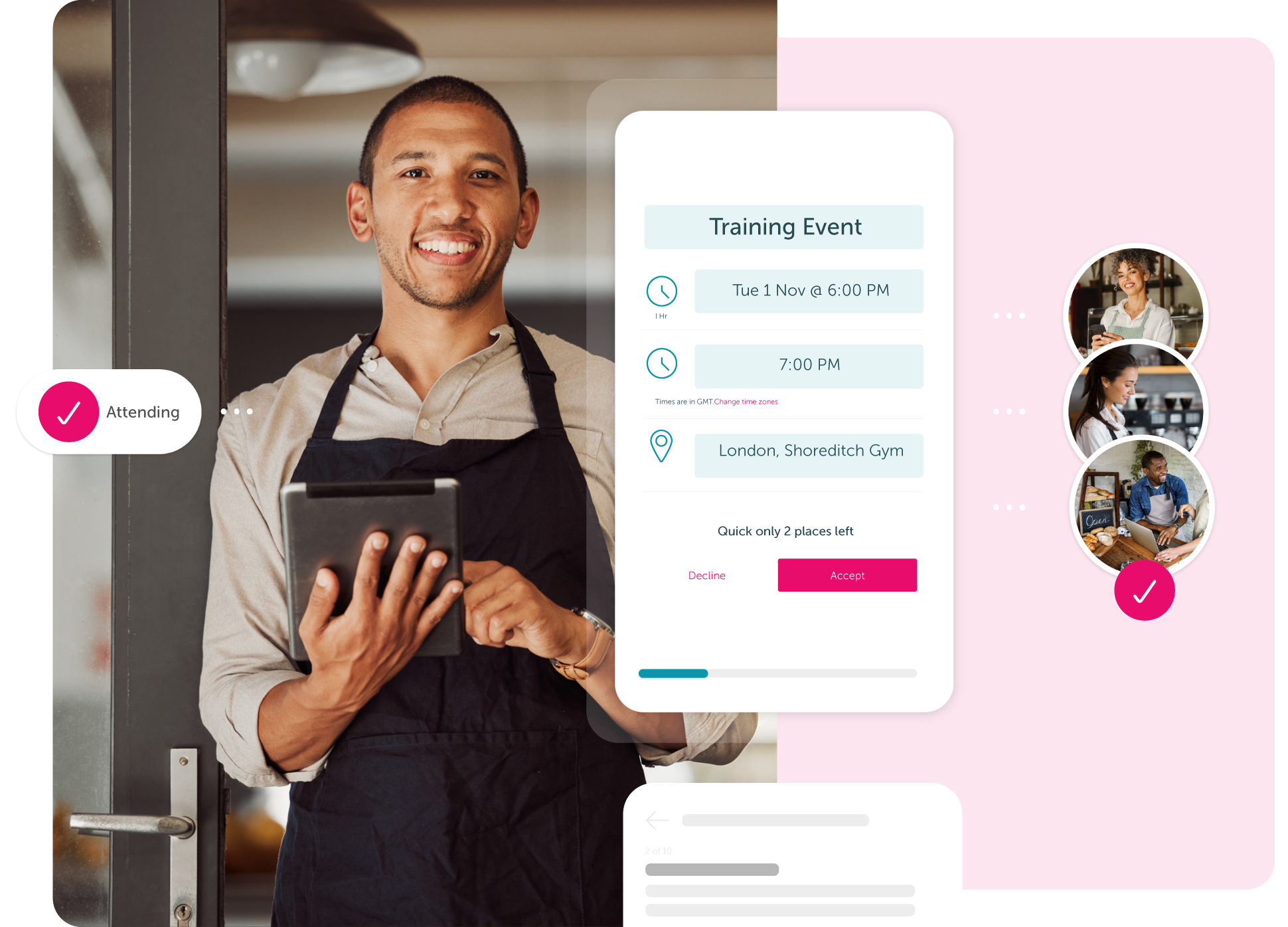 Fast follow-ups
No waiting for results
Use OurPeople to gather training feedback. Send longer messages with detailed results, or quickly deliver the outcome to home screens – pass, fail or try again. Then use the automation tool to follow up with repeat events, or the next event in the series.
Request feedback
Find out how you did
Even small events and meetings need feedback, so you know how to improve them next time. But you don't need to remember to send out the forms – automate sending feedback requests after the event and OurPeople will collate the results. Just go to the analytics tool to see what people really think.
Frequently asked questions
Still not found what you're looking for?
Do I need a company email or calendar to send an event or meeting invite?
No, events are sent using OurPeople and do not require company email or calendar accounts.
Can someone add an Event to a personal calendar?
Yes, OurPeople allows a user to add any event (meeting or training) to their personal device calendar.
Can I limit the number of people that can attend an event?
Yes, events also have an automatic waitlist function built in if an event reaches capacity. To learn more about Events and how it can work for your company, get a free demo.
Customers already using OurPeople