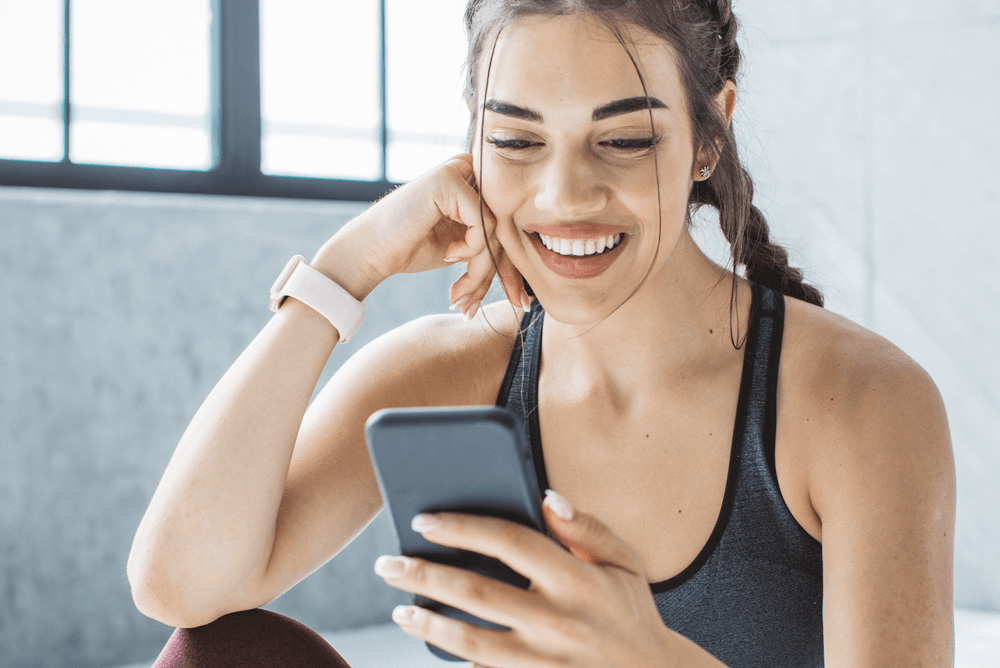 As the world changed, the way we worked evolved as a global workforce transformed rooms in their homes into make-shift offices. But for millions remained on the frontline, as the face of the business they work for, struggling to communicate with an increasingly fragmented head office.
While the way we worked might have evolved, the way we communicate is still catching up, leaving teams overwhelmed, confused and disengaged.
For the most part, this means multiple messaging apps and time spent on video calls, with a need for constant and immediate reaction.
But deskless workers, who aren't 'always connected', can't simply 'hop on a zoom call' and are at a disadvantage. There are two options: They try to keep up when they can, or miss out on potentially vital information.
If this sounds familiar, you're probably wondering if there's anything that can be done to streamline this process.
The answer is quite simple. Yes, it can. With the right tools and processes in place, internal communications can work for everyone and ensure all teams are up to date and included.
But with so many tools out there, each claiming to do something similar, which is right for you? To help you work it out, we've compiled a list of the best team communications apps and platforms in 2022.
Before you start
When thinking about the right tools, it's imperative that you think about your 'team'. This might sound simple, but it is often overlooked. From the reporting structures in place, how much information is shared across the business, how many people are in each team and the type of information that is shared, everything should be considered. So, here's a checklist of things to think about:
The distribution of deskless and desk-based teams?
How much information is relevant to both of these employee groups?
What type of information needs to be shared across the entire company?
What is the purpose of this information e.g. engagement, health and safety?
How much sensitive information is shared between teams?
What's the difference in engagement between your deskless and desk-based teams?
Once you understand this, you're in a good place to start considering which tool would be the best for your workforce.
The Best Team Communication Apps for 2022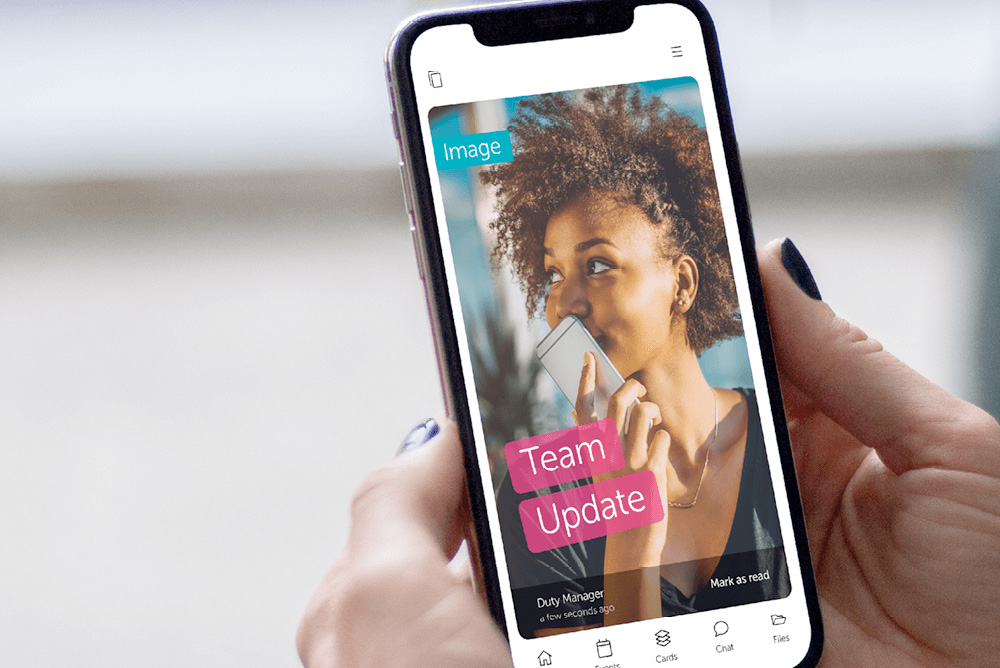 OurPeople is the best platform for sharing messages, events, meetings, shift cover and training in a no-nonsense manner. Incredibly easy to use and a vibrant design with an intuitive 'card-based' format, OurPeople makes complex communications quick and simple for teams that are rarely at a desk.
Simple, streamlined and accessible to anyone:
All the features are easy to understand and it can be applied to any type of team communication. Set up is simple and as the programme requires no app, it can be used by absolutely anyone. Chat messages and old broadcasts can be read without any connectivity and files that have been downloaded to the phone can be accessed offline.
Communications that cut through:
Whether it's events, training, shifts or urgent messages, the app is purposely designed for broadcast-type content, targeted at specific teams or employees. The card-based format ensures communications are succinct and it offers a wide variety of multimedia options, from images, video, files, surveys and quizzes, to create rich and engaging content. Publishers can ask staff to provide feedback, leave a comment or require acknowledgement of the message. Users are defined by locations, teams, roles and skills, so managers can target them with tailored content, ensuring each message is relevant.
Perfect for training:
Training can be offered in bite-sized chunks, perfect for teams with limited time. The 'Learn' section of their profile allows them to track progress and follows a simple structure. Courses follow the app's broadcast model and users are targeted with courses relevant to them, or they can be set as open for everyone to participate in.
Create content on your desktop or mobile
Creating content using the app is incredibly easy. Every kind of broadcast content, except for training, follows the same workflow whether you're using a mobile or a desktop.
Best for true engagement
OurPeople is best for teams that are tired of the 'social' element of messaging apps and want to cut through the noise to deliver streamlined communications that genuinely engages – across both deskless and desk-based workers.
Key features:
Intuitive 'cards' are simple for busy teams
Broadcast-style targets employees with the content they need
No app needed, OurPeople uses SMS where the app is not downloaded
Effective at helping organising shift cover
Detailed usage analysis
Range of content formats, from images, video and quizzes
Completely GDPR compliant
For more information and to get started, click here.
2. Microsoft Teams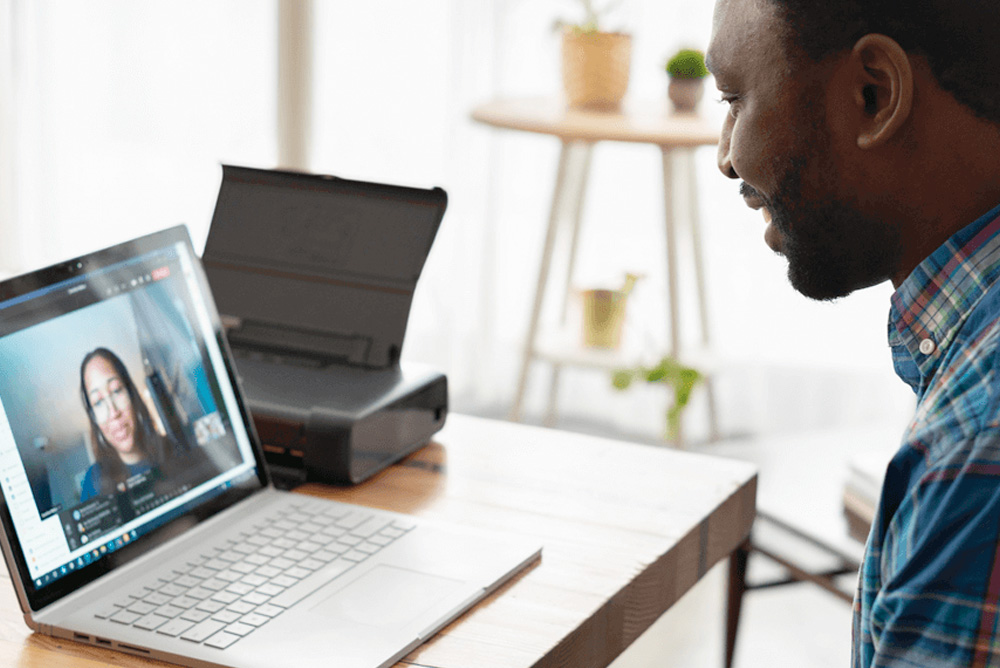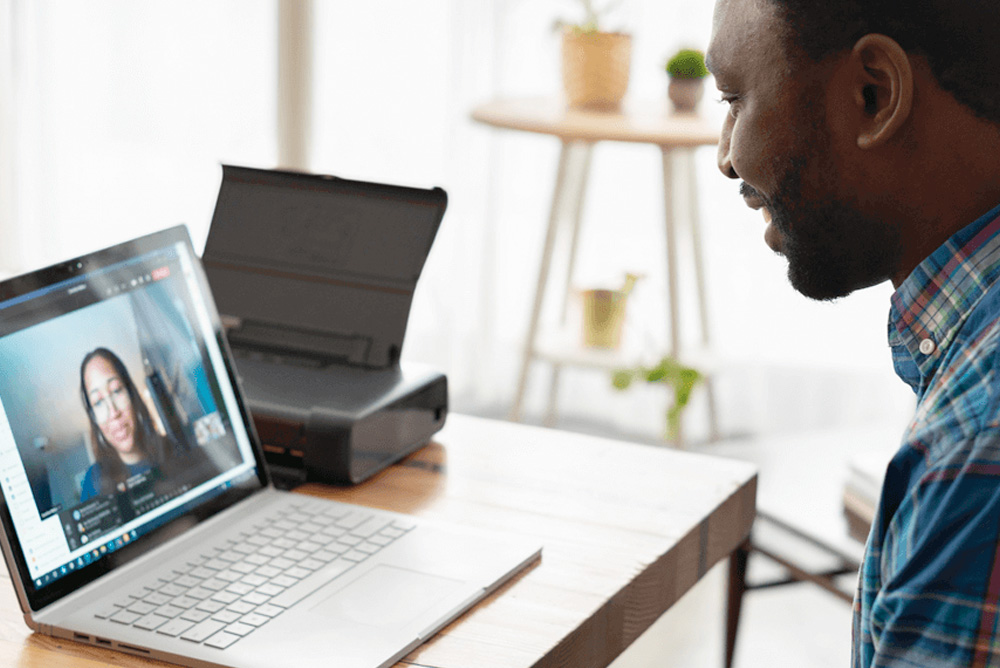 Teams is unlikely to be the first choice for deskless teams, however Microsoft has been specifically promoting it to these workforces. Although it has a lot of features, it's best when used for real-time or near-real-time group communications. The ability to move from chat, to voice or video calls and screen sharing gives it immediate value but the highly granular model is less ideal for company-wide communications and there are no specific tools for publishing, scheduling and promoting company news. However, it remains very capable in other areas, meaning some employers might make the compromise to choose Teams as their only employee-facing app.
Key benefits
Highly capable chat features with badges, GiFs and stickers
Options for moderations to the discussion experience
Governance features allow admins to control features and access
Many companies will already have Microsoft 365 licenses
Teams integrates with SharePoint
Video and voice conferencing are additional benefits
Limitations
Limited capabilities for internal communicators
The 'all company' team can generate a lot of noise
Teams assumes everyone has an Outlook email address
Navigation can be challenging
The search interface is hard to refine queries
3. Sociabble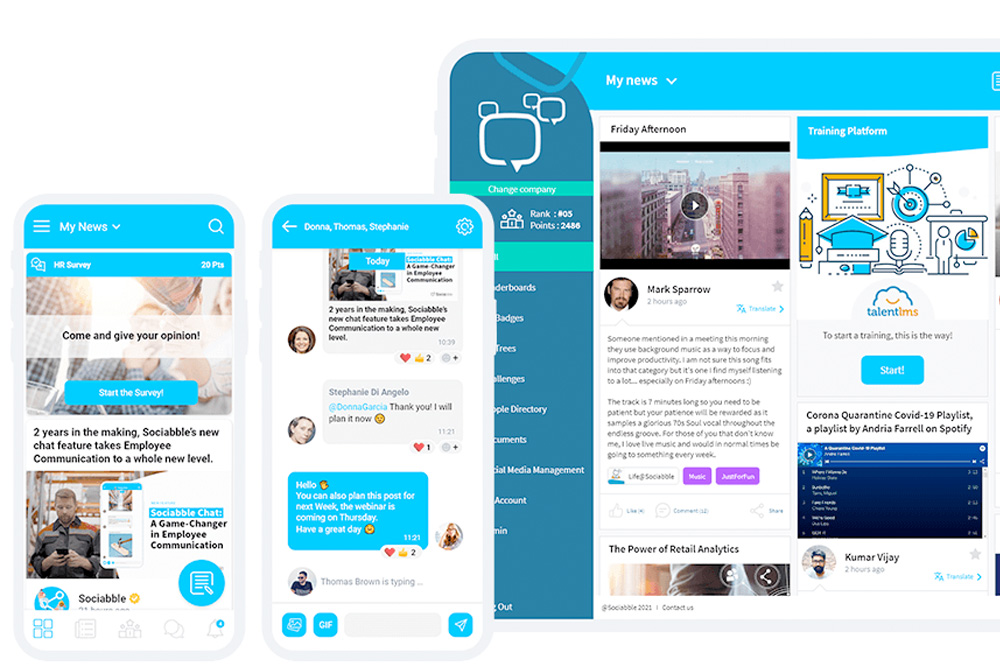 Sociabble is focused on company and employee communication, enabling content, to be shared across the organisation in compelling ways. It's particularly relevant for companies that want to engage employees that are advocating to external audiences on through social channels. The app is easy for employees to use and for an organisation to administer, providing comprehensive analytics. However, as Sociabble is tightly focused, it misses other communication features which some organisations may desire.
Key benefits
Employee advocacy is a powerful feature
Simple to use administration and governance
Comprehensive analytics
Effective gamification
Limitations
Sociabble misses some other communication features including chat and dedicated crisis communications.
Sociabble's search is limited
Integrations are primarily concentrated on Microsoft tools
4. theEMPLOYEEapp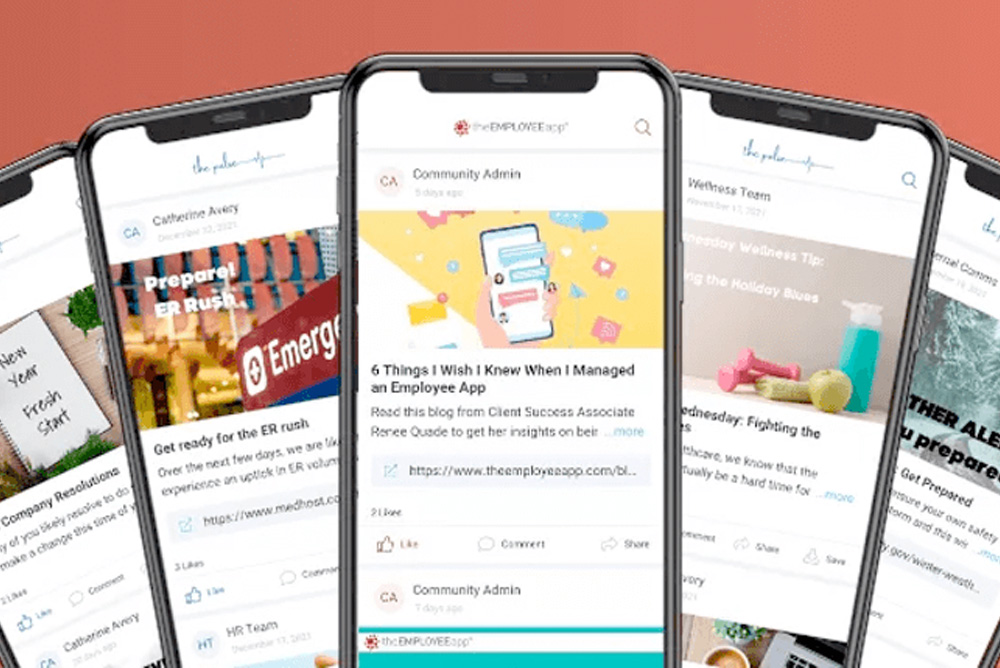 Launched in 2013, theEMPLOYEEapp is a top-down communications tool, that provides simple tools to get messages and information out to frontline workers. Features enable employees to like, comment on and share posts while admins have access to basic but capable analytics tools. For the largest employers, the app is also cost-effective despite limited functionality. The stand-out feature is its ability to support multi-branded organisations in one app, offering employees different 'profiles'.
Key benefits
Top-down communication to employees
Multiple 'Profiles' that can support multi-brand organisations
Simple and straightforward analytics
Limitations
The product functionality is fixed and has limited integration options
Changes to branding and user groups are reliant upon the vendor
No peer-to-peer messaging capability
5. Yammer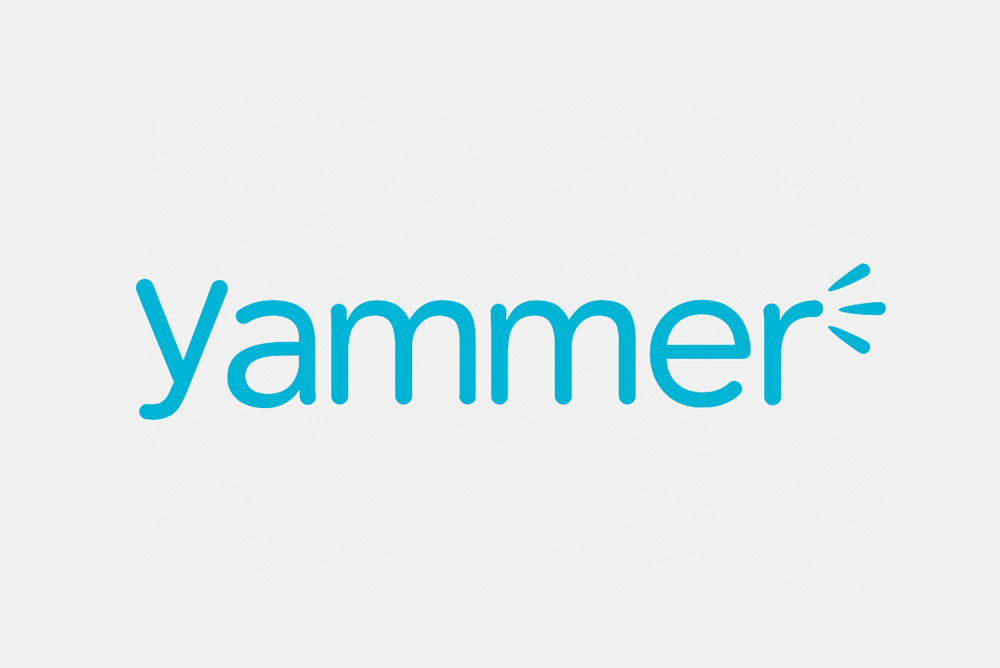 The essence of Yammer is that all participants have an equal voice, meaning that using it for top-down or managed communications will go against the grain. It was acquired by Microsoft in 2012 and is currently included in all enterprise plans of Office 365 and Microsoft 365, offering a social experience focused on organisational engagement. Its potential as an employee communication channel is limited by a lack of targeting and weak analytics, therefore it is perhaps best viewed as a secondary rather than primary platform. Yammer is also much more expensive than other apps which are better suited to deskless teams.
Key benefits
Features include Q&As, polls and recognition
Flexible options to present Yammer conversations inside other Microsoft apps
Live interactive video events offer engaging user experiences
Limitations
Yammer has a lack of targeting and content authoring tools
Analytics capabilities are very basic
Yammer offers little or no support for business process automation
The notification logic may not be suitable front line employees
A final word on the new world of work and communications
The need for streamlined communications has never been more important. As we emerge from the worst of the pandemic, hybrid working changes the structure of enterprises once again, leaving deskless workers 'out of the loop'.
As we face this next face, constantly reviewing your internal communications will be the key to a productive workforce, whether they're at home, in the office or out in the field representing your business.
This will be unique to each business so the question you need to figure out is, which communications platform best suits your style.